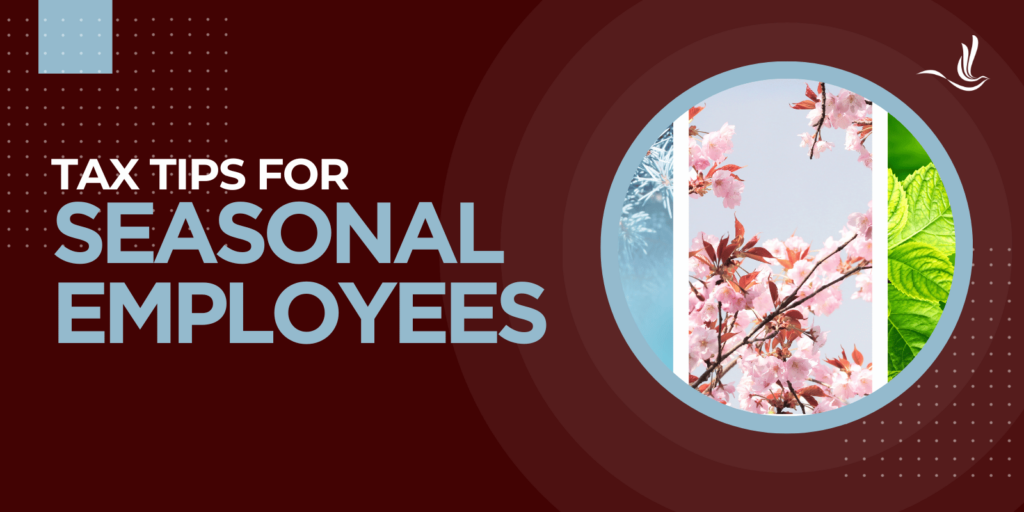 Seasonal employment can provide a great way to earn extra income during busy periods, such as the holiday season, summer, or specific events. However, seasonal employees often face unique tax considerations that differ from those of full-time, year-round workers. To make the most of your seasonal job while staying on the right side of the tax law, consider these essential tax tips. 
Determine if You Need to File a Tax Return
First, you'll need to determine if you need to file taxes for your seasonal job. The requirement to file federal income taxes is determined by several factors, including your income, filing status, and age. For example, if you are a single filer under the age of 65, you'll need to file a tax return if your income is more than the standard deduction. In 2023, the standard deduction for a single filer is $13,850. This means if you earned less than this amount, you do not need to file a return. However, doing so anyway can result in a tax refund. Here are the rest of the standard deductions for 2023:
Married filing separately: $13,850
Married filing jointly: $27,700
Qualified widow(er): $27,700
Head of household: $20,800
It's important to note that taxpayers who are at least age 65, are blind, have a spouse who is at least age 65, or have a spouse who is blind, qualify for increased standard deductions. Check with a tax professional to see if you fit these criteria to determine if you need to file a tax return.
Understand Your Employment Classification
Another step in managing your taxes as a seasonal employee is to understand your employment classification. You may be categorized as either a temporary employee or an independent contractor. Temporary employees typically have taxes withheld from their paychecks by their employers, whereas independent contractors are responsible for their own taxes.
Knowing your classification is crucial because it determines how you report your income and claim deductions. If you're unsure about your status, consult with your employer or a tax professional.
Adjust Your Withholding If Necessary
Seasonal work often comes with fluctuating income. If you anticipate that your earnings during your seasonal job will significantly differ from your regular employment or vary throughout the year, adjusting your withholding can help you align your tax withholding with your actual income.
To adjust your withholding, you'll need to submit a new Form W-4 to your employer. The W-4 form allows you to specify your withholding preferences. You can use the IRS's online withholding calculator or worksheets provided on the W-4 form to determine the appropriate amount of withholding based on your expected income.
Also, keep in mind that if you are classified as an independent contractor, your employer likely will not withhold taxes from your pay. Instead, you will likely need to pay estimated quarterly taxes using Form 1040-ES, Estimated Tax for Individuals.
Reporting Seasonal Income
Whether you're classified as a temporary employee or an independent contractor, it's essential to report all your income accurately. Employers will provide you with a W-2 form if you're a temporary employee, detailing your earnings and taxes withheld. Independent contractors will receive a 1099-MISC form. Failing to report all your income can lead to penalties and interest charges, so be sure to include all your seasonal earnings when filing your tax return. Keep in mind that the IRS requires you to report tip earnings on your tax return, as long as you earn $20 or more in one month.
Tax Breaks for Seasonal Employees
Seasonal employees can often claim various tax deductions and credits to reduce their overall tax liability.
Tax Deductions for Seasonal Employees
If you are an independent contractor, you are technically self-employed, which means you can deduct any expenses you incur that are directly related to your temporary work contract on Schedule C. This can include unreimbursed expenses like uniforms, supplies, tools and mileage. As a self-employed individual, you will also be able to deduct half of the self-employment taxes you will be required to pay. If you are a W-2 employee, you can itemize your deductions on Schedule A. However, you should only do this if it will end up in a lower tax liability than if you were to take the standard deduction.  
Earned Income Tax Credit for Seasonal Employees
You may also qualify for tax credits like the Earned Income Tax Credit (EITC) or the Premium Tax Credit. The EITC is available to lower-income taxpayers with incomes between $17,640 and $63, 698 in 2023. The actual amount will depend on your filing status and whether or not you have children. You must also have a Social Security Number (SSN), be a U.S. citizen or resident alien, have income from working, and have minimal earned income and investment income. You also may not be married and file separately. In 2023, the maximum EITC credit ranges from $600 if you do not have any qualifying children, and up to $7,430 if you have three or more qualifying children.  
Premium Tax Credit for Seasonal Employees
The Premium Tax Credit is also for taxpayers with low to moderate incomes who have Marketplace health insurance. To qualify for the credit, you cannot be married and file separately, be eligible for government health insurance or through your employer or be claimed as a dependent on another tax return. You must also be within certain income limits.  
Education Tax Credits for Seasonal Employees
If you are a student, you should look into education tax credits, such as the American Opportunity Credit and the Lifetime Learning credit. Keep in mind, however, that you may only claim one of the two education credits in a year.  
Tax Help for Seasonal Employees
Seasonal employment can be a rewarding way to earn extra income, but it comes with its own set of tax responsibilities. By understanding your employment classification, keeping accurate records, and taking advantage of available deductions, you can maximize your earnings and minimize your tax liabilities. Stay informed about tax laws and consult with a tax professional to ensure you're making the most of your seasonal job from a tax perspective. Optima Tax Relief is the nation's leading tax resolution firm with over a decade of experience helping taxpayers with tough tax situations.
If You Need Tax Help, Contact Us Today for a Free Consultation