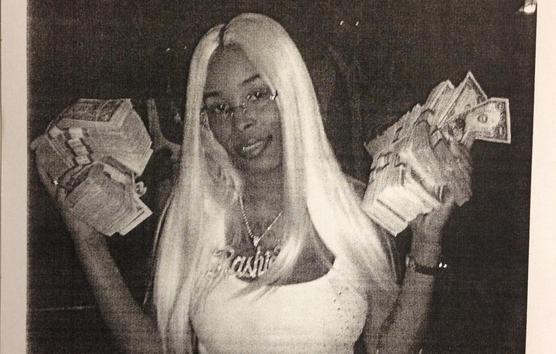 The Tampa Federal court has sentenced self-proclaimed "First Lady" and "Queen of Tax Fraud" Rashia Wilson to a 21-year prison sentence for multiple criminal charges. Charged with aggravated identity theft, wire fraud and a felon for possessing a firearm, she pled guilty to all charges. Her most egregious crime is stealing north of $3 million from the Internal Revenue Service (IRS) through fake tax returns. Authorities claim she actually stole $20 million. Along with her prison sentence, the court ordered her to remit $2.2 million of the traced proceeds connected with the criminal charges.
Wilson, 27, grew up with little money and a diagnosed bi-polar disorder. Her father was in prison during her childhood and her mother a reported drug addict. But recent reports have her enjoying a very comfortable lifestyle from her tax refund schemes. Spending more than $30,000 for her daughter's birthday party with carnival games, she also reportedly bought an Audi vehicle for $90,000. This is in addition to a list of other cars and designer clothing, vacations, and jewelry.
Based on court documents, Wilson testified that she and an alleged accomplice, Maurice J. Larry, used bogus identifications and hijacked social security numbers to collect misrepresented tax returns from April 2009 to September 2012. The two worked together out of Wilson's home, Tampa hotels and other workspaces. Reports have her system performed so efficiently that taxpayers with legitimate claims had to wait up to 12 months.
Courts documents detail how she and the alleged co-conspirator Larry ran their scheme. Tax returns were submitted to the IRS in other taxpayer's name without their approval or understanding. Upon acceptance, Wilson obtained prepaid debit cards and refund checks for the refunds for the fraudulent tax filings. Searches of Wilson's home and Larry's storage unit discovered countless medical bills among the list of thousands of Social Security numbers and names. The home also contained jewelry, a firearm and luxury goods.
After noticing a lull in drug dealing in Wilson's area, Tampa authorities, the United States Postal Inspection Service, and other federal officials launched "Operation Rain Maker" to look into the increase in the amount of money reaching her mailbox.
According to her Facebook page, she said was "untouchable." Comments on her Facebook page included, "I'm Rashia," proclaiming that she is, "the queen of IRS tax fraud." She eluded to her financial status, "I'm a millionaire for the record," alluding to how she felt about the government coming after her, "so if U think indicting me will B easy it wont."
The Queen of Tax Fraud was wrong. As Assistant Inspector in Charge Barney Morris stated, "The culmination of the Rashia Wilson investigation reflects what can happen when local, state and federal law enforcement agencies work collaboratively to combat these types of crimes."